SMTP Email Setup Connect Arborgold to your SMTP email for customer emails Kristie
You can link your company SMTP email to Arborgold for sending email to customers (proposals, invoices, etc.)
Sends one off emails to individual customers

Emails sent with SMTP through Arborgold will be in your email Sent folder (Gmail, or other providers)

Emails sent through Arborgold will be viewable in Email Outbox

Will not provide delivered or opened status (only available if sent via batch email provider)
Note: SMTP does not allow for batch emailing. To utilize this functionality you will need batch email integration
Connecting SMTP email in Cloud
From User at top right corner >Settings > Email

In Provider drop down menu select your email provider

If provider is not listed leave blank

If Provider is selected the following will be filled in for you

SMTP Server Name

SMTP Port No

Use Authenticated Email (on/off)

Use Secure SSL (on/off)

Enter your email address in the following fields

Email Address

SMTP UserName

Enter your email password in

Select 'Save & Test"

Message Email Settings Saved and Test Connection Succeeded indicates your email is now ready to use.

If connection test fails
You may go through the connection process and still have the connection test fail. If this happens your email is not ready to use in Arborgold
Some email clients (i.e. Gmail, Outlook, Yahoo) may require additional security settings updates in your account to allow Arborgold to connect.

Connecting SMTP email in Mobile Estimator
If you will be emailing proposals from the Mobile Estimator app you will need to connect your email app in Mobile Estimator.
From the Dashboard > Hamburger Menu
Settings

Email

Email Method

Select SMTP

Select Provider from dropdown

Enter email address

Enter email password

Select Save (top right)

Recieve Message

Email Settings Saved and Test Email Sent Successfully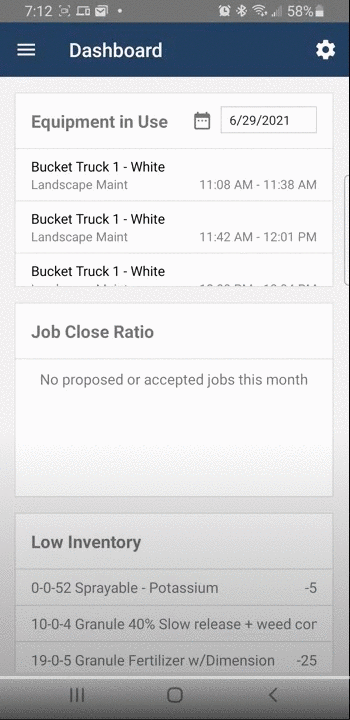 Did this answer your question?