7.8 Release Documentation
Saved Listing Views / Layouts
Saved Listing Views / Layouts 7.8 - Enhancement for Saved Listing Views / Layouts Caleb
There has been a new feature for saving column layouts on Arborgold pages. A user can add a new layout in their listing views to quickly switch between different layouts they have saved.
You can save new layouts to be visible across the organization for use by all users. This feature is exclusive to only the new listing screens such as CRM, Jobs, and Work Scheduler, but not on Message Center currently. This feature will automatically save the layout when you leave and come back to the screen's view.
Saved Listing Views / Layouts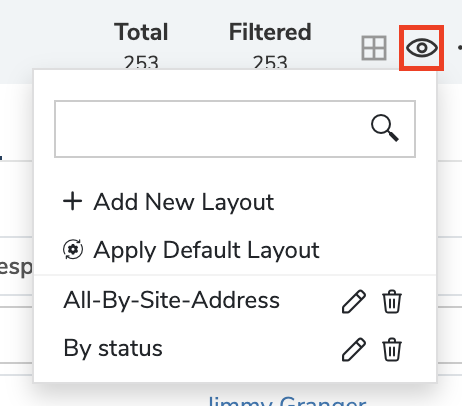 The Saved Layouts are available in the top right corner of each screen noted with an "Eye" icon.
The tree options available are:
+ Add New Layout
This will allow you to use your current column layout on the screen and save the layout for future use with a custom name.

Apply Default Layout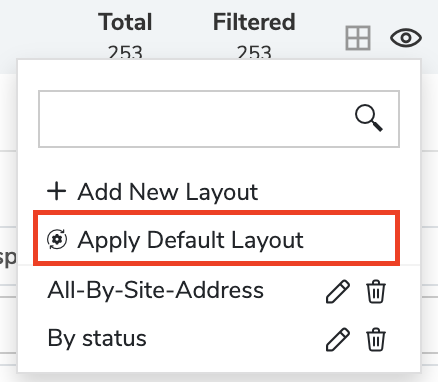 There is also the ability to easily switch back and forth between the default layout and your saved layout views.
NOTE: Any user can edit, delete, or add new layouts to be used by the whole organization.
Save Selected Layout
This option will only appear when you are on a selected layout that you already have saved in the list. It allows the user to update the selected layout to the new column arrangement they have on their screen.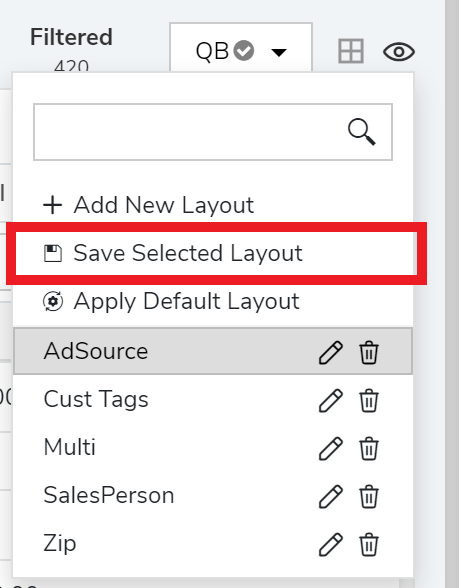 You can see the Save Selected Layout feature above. Upon editing the columns and clicking the "Save Selected Layout" button it will update the saved columns. The user will be updated upon a successful save.
Did this answer your question?