Customizing Columns in the Scheduler Learn how to customize the columns you see in the work scheduler. Betsy Rainey
In order to customize your columns, you will need to go into the Work Scheduler, and click on the small crosshair button in the upper right hand corner of the page (for unscheduled services (1) ) or the upper right hand corner of the scheduled service listing (for scheduled services (2)).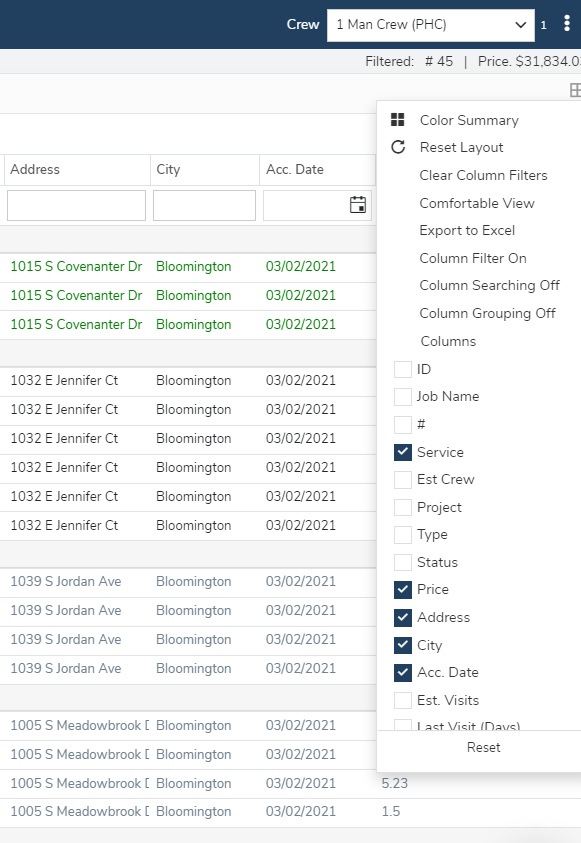 (1)

(2)
You can choose what columns display by checking the boxes to the left of each option, or unchecking them to have the column no longer display.
The columns available to add and remove on the work scheduler include:
ID

Job Name

#

Service

Estimated Crew (Est Crew)

Project

Type

Status

Price

Address

City

Accepted Date (Acc. Date)

Estimated Visits (Est Visits)

Last Visit (Days)

Predecessor Days (Pred (Days))

Item

Distance (Dist)

Estimated Hours (Est Hrs)

Cost

Overhead Cost (OH Cost)

Break Even (BE)

Profit

Quantity (Qty)

Zip

State

Latitude (Lat)

Longitude (Long)

Map Code

Job Site

Skip

Skipped Date

Call Ahead

Invoice Balance (Inv Bal)

Hold Date

Preferred Job Start (Pref. Job Start)

Customer Tags (Cust Tags)

Job Site Tags

Service Tags

Job Tags

Customer Type (Cust Type)

Salesperson

Preferred Service Start (Pref. Service Start)

Preferred Service End (Pref. Service End)

Phenology Week
Did this answer your question?