Learn to quickly search by job site instead of by billing address
Searching Job Sites
Tagging Job Sites
To search for job site information in the global search bar at the top, click on the dropdown to the right of the search bar and select site. (yours will likely say customer)

When searching for job site information the following can be searched: Site Name, Address, Contact, Email, City, District

Jobsite tags are a way of tagging and labeling the job site that can be referenced later in the work scheduler screen for scheduling. To use or create job site tags first look up a customer using the CRM listing on the left, and navigate to their Addresses tab, then double click on the address you want to edit.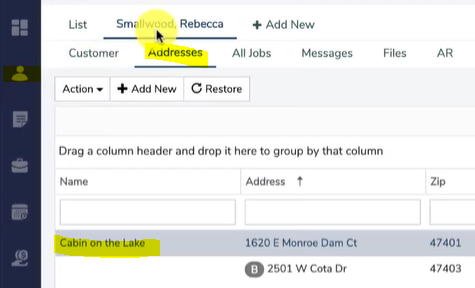 When the information opens up about the address, you will see at the bottom a contact information box, and the Tags listing with any job site tags that were tagged with an x next to them. In this example the Beware of Dog! job site tag is labeled here.

If you wish to add more job site tags, click the pencil icon to open up the job site tag edit screen

When the job site tag edit screen opens up click the + add to add a new job site tag, you will enter the name first and then click save.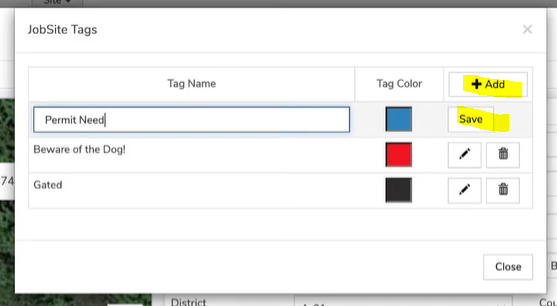 Upon saving that tag will be available across your database as a job site tag. To label, someone with the tag clicks the Tags blank in the job site information page and click on the new tag to label. You can label all, none, or any combination of job site tags. Be sure to click save after in the upper right-hand corner of the job site information screen.

If you navigate back to the CRM tab, you will find a label of job site Tag(s) where you can filter.

If you don't have a job site tag column or don't have a box to filter below you can click the 4x4 grid option at the top right and make sure you have the Column Searching Off displayed (click on Columns Searching On to toggle) and also check the box next to the job site tags option.