Import Data from QuickBooks Quickbooks Data Imports
Data Imports
When ArborGold Cloud is initially installed and set up, users are given a blank slate or "training" database. This database includes bare essentials such as sample service names, example customers and employees, and your first user account. New users will want to take the time to consider what their strategy will be in setting up the database to best serve their needs. All data lists in the Cloud system may be constructed by manual data entry, but many users find it convenient to perform a data import from a pre-existing content management system. ArborGold Cloud natively supports data imports from QuickBooks Desktop and QuickBooks Online—this is our recommended approach to creating a starting point for your Cloud database, especially if you plan on later sending invoices and payments from the Cloud system back to QuickBooks. Data imports may also be performed from a spreadsheet document if you have a list of services you offer, customer contact information, etc. stored in such a file. In some cases the ArborGold programming team may also be able to import data from a third party content management system you've previously used, though imports of this nature typically required additional time on behalf of our staff and as such are frequently billable outside the scope of a standard support plan.
QuickBooks Online
ArborGold Cloud's integration with the Online version of QuickBooks does not require the use of the Web Connector or any other special software. To perform imports or exports of data to QuickBooks Online you will be required to log in by using the "Connect To QuickBooks" button found on the Settings page of ArborGold Cloud. You will be prompted to sign in with your administrator username and password for QuickBooks Online. This begins a temporary session between ArborGold Cloud and your QuickBooks Online file, during which you can post transactions from ArborGold to QuickBooks. Note that since this is a session and not a permanent connection this step will be required before attempting to send transactions to QuickBooks Online.
Common Types of Imports:
1. Standard Import:
The standard import with either Quickbooks desktop or Quickbooks Online includes the following things: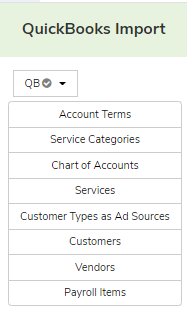 These will be typically done during the set-up call when you first purchase arborgold.
* Note Chart of Accounts is used in conjunction with our Supply Chain Management feature
* Note Vendors will be accessible in Enterprise only level of software in the Supply Chain Management Module
* Note payroll items are only available for Quickbooks Online version for time track and payroll integration
2. Advanced Import with QB or any other software that is compatible for an import:
We have the ability to also do an Advanced Import, which is typically the job history of your customers, and also the invoice history as job history for customer. This is typically chargeable and it is best to ask your trainer about these options.
3. Custom Imports
We do offer custom imports that are chargeable by the hour. We can work with you to import and manipulate your data according to your needs, its best to talk with your Account Manager so that we can relay that information to the data team.
Did this answer your question?